In the rapidly evolving digital landscape, finding the right website design company in Singapore is crucial for businesses and individuals looking to establish a strong online presence. Whether you're revamping a website, starting an online store, or enhancing your digital marketing strategies, the expertise of a reliable web design agency can make a significant difference. In response to frequent inquiries about recommended web design companies, here's an expanded list featuring seven top website design companies in Singapore.
1. Awebstar Technologies Pte Ltd.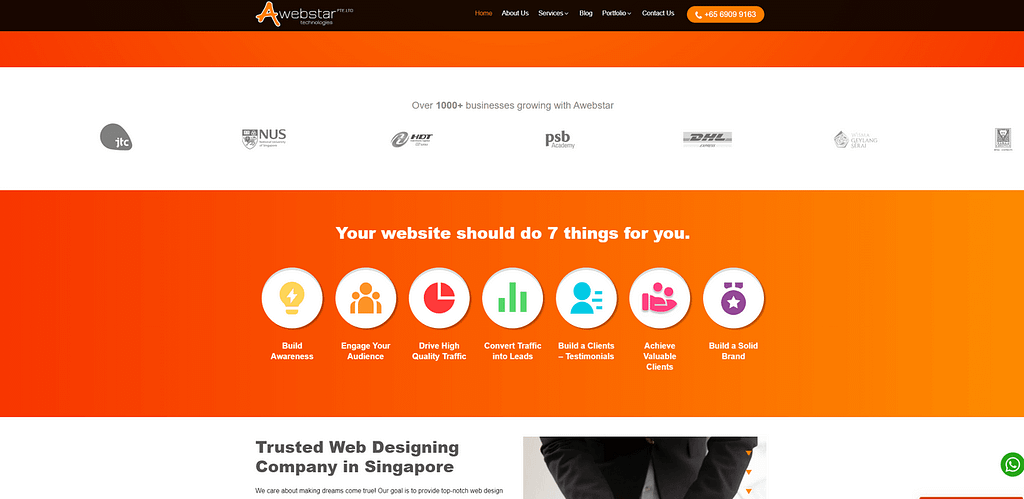 Awebstar Technologies distinguishes itself by offering exceptional services that set your business apart in the competitive industry. With over a decade of experience serving clients across diverse niches, Awebstar Technologies possesses extensive knowledge to provide optimal solutions for the growth of your business.
Recognized as a leading web design firm in Singapore and acclaimed digital marketing professionals, they have a track record of enhancing profits and overall productivity. Awebstar Technologies specializes in delivering immersive, high-quality, and industry-leading Web Design Services. Their comprehensive range of services includes web design and development, SEO, customer support, software solutions, mobile app development, and more.
Whether you are seeking Web Design Services or any other digital solution to bring your business concept to life, Awebstar Technologies is your ideal partner in turning ideas into reality.
2. PixelMusica
Founded in 2012, PixelMusica stands as an independent entity comprised of seasoned creatives dedicated to crafting solutions that foster meaningful connections between clients and their target audience.
With each creative possessing unique specialties, PixelMusica provides a diverse array of services encompassing branding, design, photography, videography, and web design and development. The firm is committed to staying abreast of the latest trends and technology, ensuring clients receive contemporary and highly effective solutions.
Beyond its comprehensive service offerings, PixelMusica is renowned for its adaptability. The firm caters to clients across various sectors and industries, including technology, engineering, finance, security services, and the non-profit sector, further solidifying its reputation as a versatile and highly recommended creative agency.
3. Banah Digital
Banah Digital is a web design agency that is focused on quality and results. They have offices in Singapore and Thailand, fully equipped to engage clients speaking English, Chinese, and Thai. With over 6 years of experience, and a team of UI/UX designers who are in-tuned with the latest design trends, Banah Digital is known for their detail-oriented and quality work. They bring creative ideas to life and catalyze growth in the digital space.
With competitive prices ranging from 2,000 – 8000 SGD, you can be assured that your satisfaction and accomplishment through their product is their greatest achievement.
Besides being a full-fletched agency, Banah Digital also operates as a social enterprise that believes in creating opportunities for youths to learn digital skills and gain meaningful experience at work. Hilltribe youths are given an opportunity to pick up design and marketing skillsets, under the tutorage of our team of professionals. Partner with Banah Digital to see your web needs met and also to impact lives!
4. Chillybin Web Design
Chillybin, a website design agency based in Singapore, specializes in expert WordPress development, eCommerce website development, and comprehensive website support. Their dedication lies in creating visually appealing, functional, and profitable mobile-optimized websites for businesses spanning the Asia Pacific region. With over a decade of experience in website design and development, Chillybin is a forward-thinking team, offering contemporary design, industry expertise, and top-tier quality work.
Their clientele ranges from small business owners like award-winning photographer Jonathan Mitchell and mumpreneur Arlou & Rose to global giants such as Foxtel, Raffles Medical Group, and Coconuts. This diverse portfolio underscores their ability to tailor services to meet specific needs. Using WordPress as their platform of choice, Chillybin ensures that every website they build stands out in a competitive landscape. If you're looking for a website design that distinguishes you from competitors, reach out, and let's create some magic together.
5. Reach Monkies
Reach Monkies are a group of individuals who are passionate about what they do and dedicated to delivering exceptional website results for their clients. With expertise in multimedia design, digital marketing, and data analytics, they take a holistic approach to every web project, working closely with their clients to understand their unique needs and goals.
They believe in the power of design and data analytics to drive successful marketing campaigns. They strive to combine visually appealing designs with data-driven decision-making to create effective marketing strategies.
6. eFusion Technology Pte Ltd
eFusion Technology Pte Ltd is a Singapore-based in-house website design company specializing in the development of e-commerce websites and premium corporate website designs. The entirely local team handles all aspects in-house, ensuring that their support is consistently accessible.
Having been established in 2004, they have successfully catered to a diverse clientele ranging from SMEs to MNCs across various industries. Clients appreciate their pressure-free approach and extensive experience within the local market. The creative team at eFusion Technology takes the time to comprehend your business, creating a customized e-commerce design solution that genuinely reflects your specific needs.
Explore their extensive portfolio of website designs to witness how they could contribute to your success in the e-commerce industry as well.
7. OOm Pte Ltd
Established in 2006, OOm offers an all-encompassing solution for everything related to digital marketing, showcasing expertise in Website Design & Development, Search Engine Optimization (SEO), Search Engine Marketing (SEM), Social Media Management (SMM), and Content Creation.
As an award-winning digital marketing agency, OOm has secured partnerships with industry giants such as Google and Facebook. Recognized as a Meta Business Partner and a Premier Google Partner, OOm stands among the top 3% of Google Partners in Singapore. Their profound understanding of the Google and Facebook platforms positions them to assist clients in optimizing their digital objectives. Moreover, OOm is pre-approved by IMDA as a vendor for the E-Commerce and Digital Marketing Productivity Solutions Grant (PSG).
Our Top 7 Website Design Companies in Singapore
That concludes this concise listicle featuring the top 7 web design companies in Singapore. Whether you're an individual aiming to establish a blog, a retailer navigating the shift to online platforms, or an SME seeking online marketing services, these companies offer the necessary expertise to help you achieve your objectives. The lesson we learn down the road is to focus on your strengths and outsource tasks beyond your core competency. Instead of investing numerous hours in learning to set up your WordPress website or Shopify webstore, I recommend enlisting the services of a professional. While it may involve a slightly higher cost, the long-term benefits are undoubtedly worthwhile.